Starship Aurora
Home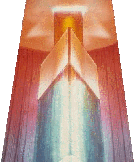 Concerto of Deliverance
Starship Being Light
Love to Love
Articles
List
Cameos
Pictures
Words
Music
Ayn Rand
Architecture
Philosopher Hero
Minerva
Contacts
Director
Relevant Links
Webmaster
Starship Forum
About SS Forum
Go to SS Forum
Subscribe to
Starship_Forum
To Footer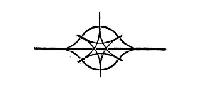 Starship Aurora
~ * ~
Music
The Concerto of Deliverance
She sat listening to the music. It was a symphony of triumph. The notes flowed up, they spoke of rising and they were the rising itself, they were the essence and the form of upward motion, they seemed to embody every human act and thought that had ascent as its motive. It was a sunburst of sound, breaking out of hiding and spreading open. It had the freedom of release and the tension of purpose. It swept space clean, and left nothing but the joy of an unobstructed effort. Only a faint echo within the sounds spoke of that from which the music had escaped, but spoke in laughing astonishment at the discovery that there was no ugliness or pain, and there never had had to be. It was the song of an immense deliverance.
Ayn Rand, Atlas Shrugged, 1957

For assistance on locating the musical works mentioned below, email Monart monart@starshipaurora.com

My Musical Getaway Pack
In response to Lindsay Perigo's invitation to reveal my musical getaway pack if I were faced with exile, I listed some of the following, which are also posted on SOLO with those of others at <http://www.freeradical.co.nz/solo/discs. html>:
Custom CDs of --
1. The Best of John Mills-Cockell: Syrinx, Long Lost Relatives, Heartbeat, A Third Testament, Gateway, Atlantis, Do You Hear the Rushing River?
2. The Best of Dvorak I: Cello Concerto, New World Symphony, American Quartet, American Suite, American Flag, Dumky Trio, Slavonic Dances, Legends.
3. The Best of Dvorak II: Symphony No. 8, Symphony No. 7, Czech Suite, Wind Serenade, String Serenade, Slavonic Poems, Slavonic Rhapsodies, Cypresses.
4. The Best of Mario: All the things you are, Serenade, Golden Days, One Alone, Beloved, Core 'ngrato, Arrivederci Roma, Tourna asurriento, Drink Drink Drink.
5. Assorted: Tchaikovsky's Violin Concerto, Bizet's L'Arlesienne Suites, Schubert's Trout Quintet, Pachelbel's Canon, Rodrigo's Concierto De Aranjuez, Rachmaninoff's 2nd Piano Concerto, and Hambro & Kingsley's version of Gershwin's Rhapsody in Blue.
Later, I posted this followup to the SOLO Forum:
It occurred to me that because my first choice of John Mills-Cockell's music in my getaway pack is very unlikely to be known by anybody on SOLO except Lindsay, I should provide a little more explanation, in case anyone else is facing banishment or escape and is making a list:
As much as my spirit lives on the dynamic and benevolent energies of Dvorak and others from the past, I am also rejuvenated by a fountainhead of genius alive in our times--John Mills-Cockell--whose sunlit music ennobles and sets fire to the soul like Dvorak's does. But unlike Dvorak, John lives in our modern culture, seeing the visions of our world, creating new musical vistas with tones, timbres, and rhythms that were inconceivable up to less than a half-century ago. John's creations link the past, and the future, with the present--giving a continuity and integration that's transcendent and eternal.
Mills-Cockell (born 1943, year of The Fountainhead) is not an avowed objectivist, but he has read some of Rand's novels. For those who have read Atlas Shrugged, if they also heard some of Mills-Cockell's music, they might experience the affinity between themes from the two great artists: such as between "Wyatt's Torch" and "Melina's Torch", or "The John Galt Line" and "Collision", or "The Concerto of Deliverance" and "Tillicum"....
Monart

From a letter to a new friend:
For me, too, I search for music I can trust and relax my guard to, that I can open up to its melody, accept it deep into my soul, let its energy flow into my heart, let it take me someplace beyond, another reality -- where the purity of beauty is so powerful that I feel harmonized, integrated, centered, cleansed, such that I return enriched and renewed. Among my chief sources of this precious fountainhead is Dvorak and Mills-Cockell. When confronted with the debilitating forces of the culture around me, I persevere and relentlessly strive for new worlds of adventure, enchantment, and new possibilities of penetrating the sublime. And I let my love of music and philosophy propel me on this quest.
I've always loved music. If, when I was young, I hadn't wanted to work in astronautics, and if later, I hadn't read Fountainhead and switched to philosophy -- I would likely have become a musician. As it is, I am a keen listener, and to play and compose is something to be saved for "the future", when my prior work is done. At least, this is what I've been telling myself all these years. However, my love for music has also grown in my two daughters, one an oboist and the other a flutist, both performing in naval bands and university orchestras while studying music and philosophy in their undergrad programs.
Monart

Music for Rational Romantics
from John Mills-Cockell
This is a note on the historical background of the music of John Mills-Cockell (b. 1943) compiled for the Rational Romantics CD.
The tracks I've selected for this album covers JMC's period from 1970 to 1977, and from 1998. The period between 1977 and 1995 is not recorded in albums, although I have demo albums sampling his work during this period, which was mainly involved with writing and performing for film, radio, TV, stage, theater, and exhibitions.
The music on this RR album is chosen from five vinyl albums released 1970-77, and from a CD released in 1998. The vinyls are Syrinx (70), Long Lost Relatives (71), Heartbeat (72), A Third Testament (73), and Gateway (77). The recent CD is from music for the play, Atlantis (98). One other CD, Do You Hear the Rushing River (95), is not epresented here in this RR album.
I have other RR collections (and original albums transferred to CD), whose sequences were selected without regard to historical progression This one I made here is intended to convey the evolution of JMC's music across 30 years. But within the period vignettes, there is a sequence, each a part of the overall journey that takes the listener across space and time to a new musical experience.
JMC's music cuts across genres and breaks the limits of traditional instrumentation, using predominantly synthesized tones and timbres that he creates uniquely to express a voice in the melody. His expertise spans a wide range of styles and themes--conveyed in his fanfares, lullabies, hymns, waltzes, polkas, marches, and so on. His melodies include the dramatic and deep, the light and simple, the wistful and enchanted, the defiant and triumphant, the joyous and sad. It's shaped with freshness, grace, intensity, purposefulness, and integrity.
When first hearing this music, depending on one's context, the new synthesized sounds may cause some initial discomfort because of their unfamiliarity. But soon, upon a few listenings, the once-strange instrumentation adorning the body and soul of the music becomes more familiar, and one can hear that the unique tones are integral to the experience.
Note some of the intriguing titles: "Melina's Torch" (What other Torch does it remind you of?), Syren, December Angel, Truffaldino's Birdsong, Age of Discovery, Collision, Atlantis...
Prepare for the odyssey.
Monart

John Mills-Cockell
| | | | | | |
| --- | --- | --- | --- | --- | --- |
| 1 | Tillicum* | 1:53 | 11 | The Sands of Jutland | 2:23 |
| 2 | Appalosa-Pegasus | 11:29 | 12 | Voices in Westminster Abbey | 2:54 |
| 3 | Syren | 5:59 | 13 | Winter Farewell Finale | 1:29 |
| 4 | December Angel | 8:56 | 14 | Collision | 3:35 |
| 5 | Field Hymn (II) | 2:52 | 15 | Consequence and Moonrise | 4:36 |
| 6 | Truffaldino's Birdsong | 2:03 | 16 | Reverie | 3:52 |
| 7 | Melina's Torch (II) | 4:02 | 17 | Atlantis 02 | 5:03 |
| 8 | Field Hymn (III) | 2:51 | 18 | Atlantis 07 | 2:52 |
| 9 | Age of Discovery Finale* | 0:54 | 19 | Atlantis 13 | 5:59 |
| 10 | Yasnaya Polyana | 3:15 | | Total: | 77:28 |
* Click for sample.

Composed and arranged by John Mills-Cockell, some arrangements by Syrinx
John Mills-Cockell on keyboards and synthesizers.
(Other performers detailed on original LP covers)

Tracks:
2 from Syrinx, arr. by Syrinx, © 1970 Windfall Music
1, 3, 4, 5, The Long Lost Relatives, arr. by Syrinx, © 1971 Windfall Music
6, 7, 8, Heartbeat, © 1972 Windfall Music
9, 10, 11, 12, 13, A Third Testament, © 1973 Windfall Music
14, 15, 16, Gateway, © 1977 Anubis Records
17, 18, 19, Music for Atlantis, A Play, © 1998 Socan

Compiled & recorded in 2001 by Monart Pon
with permission from John Mills-Cockell
All Rights Reserved


© Copyright 2001 Starship Aurora



An Objectivist Society