Starship Aurora
Home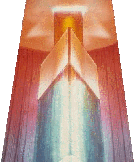 Concerto of Deliverance
Starship Being Light
Love to Love
Articles
List
Cameos
Pictures
Words
Music
Ayn Rand
Architecture
Philosopher Hero
Minerva
Contacts
Director
Relevant Links
Webmaster
Starship Forum
About SS Forum
Go to SS Forum
Subscribe to
Starship_Forum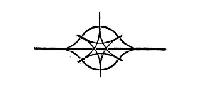 Starship Aurora
~ * ~
Architecture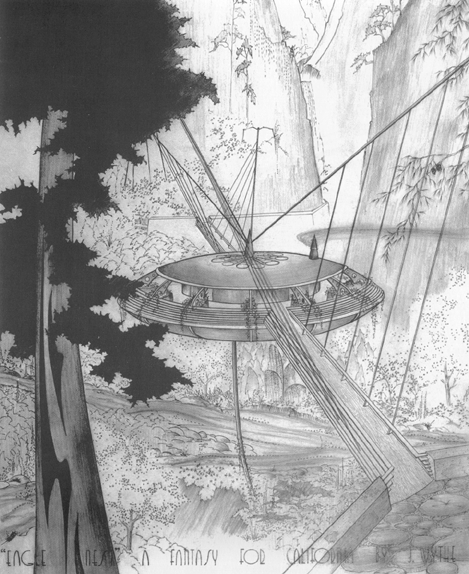 Eagle Nest - An Architectural Fantasy 1948 - Joseph Henry Wythe
Drawing used with permission of the architect.
Joseph Henry Wythe
In 1990, when Monart and I were vacationing with our daughters in Sandpoint, Idaho, we were fortunate to come across the studio of Alternative Architecture where various pamphlets and pictures of the architecture of Joseph Henry Wythe were being displayed. They were inspiring and we were delighted to view them and take away with us some of the samples being offered.
Recently, I came across the one that had originally caught our interest and led us to look at the rest. It was the one showing "Eagle Nest". I thought of searching the web for the architect so that I could ask permission to put the drawing on our website. To my astonishment and pleasure, I was immediately successful in finding and contacting him by e-mail. Mr. Wythe told me that Eagle Nest was originally a sketch done in a boring class just before he graduated from architecture school in 1948; then, he drew up the renderings. Mr. Wythe's mentor, Bruce Goff, who was also a close friend of Frank Lloyd Wright, was delighted with the set given to him. That led to having the drawings sent out by the U.S. Dept. of State on a 5-year travelling exhibition of embassies and information agencies around the world -- as examples of American architecture -- in 1948!
Mr. Wythe also told me that he is presently working on a book that will give the answer and solutions to the question "Why?" "when people encounter a work of organic architecture, they are thoroughly delighted with the experience. However, when they build for themselves, they are handed the same old trash."
Coincidentally, in his new book, Mr. Wythe recommends the San Francisco Institute of Architecture as a source for learning creativity in architecture. The SFIA was founded in 1991 by Fred Stitt, a long-time objectivist, formerly a student of Bruce Goff (and an early reader of "Project Starship" 25 years ago).
I eagerly ordered Mr. Wythe's published books which are now providing rich material to add to the treasures we have found for Starship Aurora : Drawings for an Alternative Architecture from the Folios of Joseph Henry Wythe is a magnificent record of his work and art; Prelude to Design is a very comprehensive checklist and workbook to bring out all the information needed for designing your home and Flights of Fancy contains sketches by the architect that develop creative imagination.
Although Eagle Nest has not yet been built, Joseph Wythe has created and built beautiful works of architecture for over 50 years and deliberately set about to change this aspect of human life for the better. Summarizing his words: A building of utility, economy, reliability and comfort becomes a Work of Architecture when it transcends into the realm of beauty through its conception, music, romance, integrity, indigenousness, unity with nature, expression of time, aspect of mystery, enchantment, appeal, and creation which expresses the highest values of its culture ... and "It demonstrates a faith in mankind to rise above all degrading and destructive forces."
And in looking through his drawings, I find that his building soar and inspire, delight me and enhance my view of life's possibilities. Is Eagle Nest supported by Earth or anchored to it? As we continue to look for ways to rise to new heights, we can look to the example of Joseph Henry Wythe, his architectural philosophy, education, and to his glorious living visions extended before us.
Mary Jane Pon


© Copyright 2002 Starship Aurora



An Objectivist Society